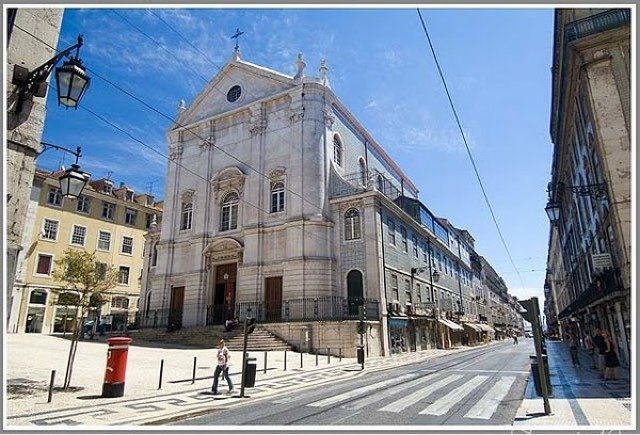 São Nicolau, Baixa, Lisbon
In 2011, we made a
special post
, prompted by the desperation of many local readers, on the complete absence of a regular diocesan Traditional Latin Mass in Portugal:
"...o Dogma da Fé..."

Until when will Rome let Portuguese Bishops get away with ignoring the motu proprio?

Rome, Madrid, Paris, Bern, Vienna, Berlin, Brussels, Amsterdam, Luxembourg, London, Edinburgh, Dublin, : what do all these cities have in common?




They are the capital cities of great and historic nations in Western Europe; and they all have at least one Diocesan Traditional Mass at least every Sunday.




Even the nations of Scandinavia, with their extremely small number of Catholics, have the Mass in the Extraordinary Form, as authorized by the motu proprio Summorum Pontificum, at least a few times every month. That is the case in Copenhagen, Stockholm, and Oslo.




Is there any capital city missing in our list? Reykjavik, it seems... and Lisbon. Yes, the city in which Saint Anthony was born, where Saint Francis Xavier embarked in his lifelong journey to Asia...and thousands of other missionaries embarked to all corners of the Earth, where they celebrated the Traditional Mass, is a city with no Diocesan Traditional Mass.
We are very happy to report that, under the new and current Cardinal-Patriarch, the situation has improved considerably. It started tentatively, with irregular Masses, but now the Lisbon Patriarchate offers a daily Traditional Mass.
The information is the following, for those living in the country and for the many pilgrims visiting the nation to reach Fatima (which is close to Lisbon):
Daily Mass (Mon.-Fri.) at Conceição Velha, near the Cathedral (Sé), at 7 p.m., and at 11 a.m. on Saturdays.




Sunday Mass in the main parish church of São Nicolau, also in the central area (Baixa), at 11 a.m.
There is also a regular SSPX presence in Lisbon and in Fatima.