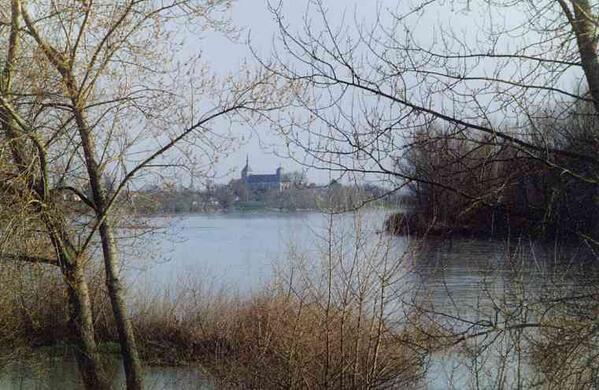 The Loire river - Fleury Abbey in the background
Sometime in the 7th century, the relics of Saint Benedict were translated from Monte Cassino to a monastery by the Loire, the Abbey of Saint Benedict upon the Loire (Saint-Benoît-sur-Loire), better known as Fleury Abbey. (There are some who say that the relics actually remained at Monte Cassino, but that is a matter for another day.)
In any event, the date of definitive placement of the relics at Fleury, July 11 (653? 655? 660?), became a second feast of Saint Benedict for all his sons and daughters - a Saint Benedict of summer, so the Patriarch could be festively celebrated, which cannot happen on the date of his death (Transitus, March 21), due to Lent or holy week. Both dates were always celebrated by Benedictines, while in the general Roman Calendar the remaining date was that of March. In the pauline calendar, the "Solemnity" of Saint Benedict was transferred from March 21 to July 11. Both dates, Transitus and Translation of Relics, are, for Benedictines, thoroughly traditional feasts.
This summer feast of Saint Benedict was celebrated today as well in Fontgombault Abbey, which also recalls this year the death, exactly 900 years ago, in 1114, of the original founder of the abbey, and first abbot, Petrus a Stella (Pierre de l'Étoile, "Peter of the Star"), and the translation of his remains, 60 years ago, to the nave of the abbatial church. The sermon of the Father Abbot for the date is available below.
Fontgombault Abbey - nave of the abbatial church
View from choir: tomb of Petrus a Stella in the foreground
________________________________
Sermon of the Right Reverend Dom Jean Pateau
Abbot of Our Lady of Fontgombault
(Fontgombault, July 11, 2014)
The Church invites us all to rejoice in the Lord,
ga
udeamus omnes in Domino
, on this day when she celebrates St. Benedict's feast day.
For more than 1,500 years, men have kept entering the school of the holy Patriarch, who was born in Nursia, Italy, around 480. He lived in troubled times, since the Roman Empire had collapsed four years before he was born; there were all kinds of dangers, rampaging of troops, requisitions, looting and plundering, violence, increase in foodstuffs prices, dearth and restrictions, starvation, epidemics. Benedict, "in his life repaired the house of the Lord". His example, his Rule, his monasteries have been and remain an answer offered to men and women of all times, to those, "who desire life, and covet many days, that they may enjoy good" (Ps 33 [34]:13).
Paul VI asserted in a homily at Monte Cassino:
Excitement, noise, feverish restlessness, outwardness, throngs, all this threatens man's inwardness. Man lacks silence, along with the authentic interior word which it brings, he lacks order, prayer, peace. He lacks himself. In order to find self-control and spiritual joy, he needs to stand and face himself in the Benedictine cloister. Through monastic discipline, man is won back to himself and to the Church. (Monte Cassino, October 24, 1964)
These words are still topical. In a world which seeks itself and gropes, Benedict reminds us of the essential: to seek God.
By the will of God, Who wants to associate man to His work of sanctification of mankind, the Father of Western monks has become through his teaching a master for many men and women along the path of holiness. Whereas the world urgently needs apostles, how can we in our turn follow this path?
In a sermon for the feast of the Nativity of Mary, St. Bernard specified the role of human mediation in the work of sanctification and the means for us to become mediators:
The Fount of Life has been channelled to reach us and its waters have overflowed on our public squares (cf. Prov 5:16). It is through an aqueduct that this trickle of heavenly water has been brought down to us and has poured out grace drop by drop onto our withered hearts…Yet, how can our aqueduct reach out to such an elevated source? How, think you, if not by the fierceness of its desire, by the fervour of its devotion, by the purity of its prayer, according to these words: "The prayer of the righteous pierces the clouds" (Sir 35:21). Now, who is righteous if Mary is not, she from whom has risen for us the Sun of justice? How then can Mary have reached this unreachable Majesty, if not by knocking, asking, and seeking? (Sermon of the Aqueduct, nn. 3 and 5)
If Mary is for every man in a unique way the aqueduct of the grace of God, every man is in his turn called to extend the network, to become for his neighbour an aqueduct of such and such grace, and in any case to offer him his charity. St. Benedict has been such an aqueduct for his sons. Others have followed his example, such as Peter of the Star, founder and first abbot of Fontgombault.
When during the eleventh century Peter came to settle in the place formerly hallowed by the hermit Gombaud and where some solitaries were still living, he took share in a capital step of the monastic life on the banks of the river Creuse. In the year 1091, probably due to an increase in the number of solitaries, he transferred the monastic life to the right bank of the Creuse and chose a coenobitic mode of life. The monks of Fontgombault would henceforward live in a monastery, under a Rule, that of St. Benedict, and under an Abbot (cf. The Rule of St. Benedict, chap. 1, Of the Various Kinds of Monks).
Peter turned from a hermit into an architect and a tireless builder. Nine hundred years ago, in 1114, during the twentieth year of his abbotship, Peter went back to his Lord. He who would afterwards be called blessed Peter of the Star was buried in the chapterhouse, where his tombstone was found on February 3, 1954. This tombstone was moved to the church's nave on July 29, 1954, and we can read on it the Latin epitaph:
"They called me Peter;
Now I am dust without a name;
But thanks to God's mercy,
I believe I shall rise from that dust.
I beg you, passer-by,
Ask God to look favourably upon me;
As thou art today, so was I once;
As I am now, so thou shalt be."
[Petrus eram dictus, nunc sum sine nomine pulvis. Sed miserante Deo de pulvere credo resurgam. Dic homo qui transis Deus ut mihi propicietur. Nunc quod es ipse fui, quod sum modo tu quoque fies.]
Even in his death, Peter is still speaking. These words rekindle in our hearts the feeling of the solemnity of life. Celebrating the feast of a saint does not merely mean praising the Lord for the handsome gifts which in former days He poured out upon a human creature. It means remembering that today also the saints remain aqueducts of grace, and it thus means renewing ourselves as we listen to their message so as to fulfil faithfully our calling.
Today's Gospel [Gospel for the Missa "Os iusti", Mt 19:27-29] is quite clear: the reward will belong to those who will have followed the Lord. Let us then follow Jesus. Let us pierce the clouds by our union to God, so as to become an aqueduct and pour out God's grace and mercy on the world. For those who live in our times and are thirsty, a mere drop of this water is a great blessing. Will we deprive them of it?
Messenger of peace, maker of unity, master of civilization, and first and foremost herald of Christ's religion and founder of the monastic life in the West, [such was St. Benedict]… Whereas the Roman Empire, having reached its last days, was crumbling away, whereas whole regions of Europe were sinking into darkness and other regions did not yet know civilization and spiritual values, Benedict was the one who by his constant and assiduous efforts made the dawn of a new era rise on our continent. (Apostolic Letter Pacis nuntius, October 24, 1964)
Children of Mary, sons of Benedict and of Peter of the Star, let us work to give birth to this era which will know no sunset.